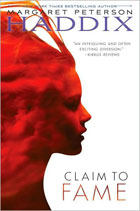 I recently finished reading "Claim to Fame" by Margaret Peterson Haddix. Being one of the biggest Haddix fans out there, I couldn't wait to get my hands on this one.
I love surprises and Margaret's books are chock full of them. This book did not disappoint. Lindsey Scott is a former child star who can hear everything said about her — good or bad. I love books about people with unique powers that cause problems. This one was so bad that Lindsey never wanted to leave her "safe" house until she is kidnapped.
The ending was a surprise which I love, but it did seem to wrap up a little quickly.
I can't wait to add this book to the library shelves as soon as I get back to school on Monday — I already know some students that will love it!