One of my favorite days is Friday.
Why?
It's library day, of course!
Being the librarian at a small private school of Pre-K to 8th Graders is a blast, but it can also be a challenge. Every Friday I am bombarded by kids who either don't want to read at all, who say I have no books there to read (what???), or who try to read books above their level so it will make them look cool to the other kids. Last week I had a second grade boy come up and slam a copy of Twilight on my desk for me to check out. HA!
The awesomeness of my Friday is that the other 95% of kids love to read and can't wait to get books. They always want recommendations because they know I read what they read. The problem is that I have been so busy working on MY novel, I haven't had a chance to read any books since school started in August. My to-read pile is almost as tall as my dining room table.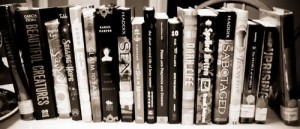 From left to right…
Ruined
by Paula Morris,
Beautiful Creatures
by Kami Garcia & Margaret Stohl,
Savvy
by Ingrid Law,
Selling Hope
by Kristin O'Donnell Tubb,
Rules
by Cynthia Lord,
Claim to Fame
by Margaret Peterson Haddix,
The Last Boleyn
by Karen Harper,
Sent
by Margaret Peterson Haddix,
Sea of Monsters
by Rick Riordan,
The Short Second Life of Bree Tanner
by Stephenie Meyer,
Into the Gauntlet
by Margaret Peterson Haddix,
Dark Life
by Kat Falls,
Spoiled Rotten
by Brandi Johnson (I went to high school with Brandi!),
Sabotaged
by Margaret Peterson Haddix,
Tennyson
by Lesley M. M. Blume,
People of Sparks
by Jeanne DuPrau,
Uprising
by Margaret Peterson Haddix,
City of Ember
by Jeanne DuPrau
So I came up with an idea. I'm challenging the kids to 1) guess how many books I can read during our Christmas break and 2) see if they can read more than I do!
This is a win/win/win.
Win #1 – Contests always get them excited to read!
Win #2 – I finally get the books in my pile read.
Win #3 – I'll have lots of book recommendations for them on January 3rd!
I'm going to keep track of my tally here on the blog just in case any students happen to read it and I'll be sure to post if any of my students beat me. (I'm hoping they do!!!)
Happy reading!