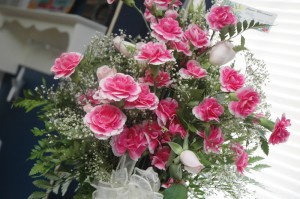 What a lucky girl I am!
I threaten hubby within an inch of his life not to buy me flowers (why waste money on something that's going to die?), but that doesn't mean I don't like to get them.
When my mom showed up at my door yesterday I was blown away with this gorgeous, beautiful bouquet of flowers she had for me. The card read "You are such a good mom and a hard worker. Hope you have a great day." Well, how could I not have a great day looking at and smelling these all day?
I've started another revision on Sophia, which after revising it so much already I would normally groan, but I now know exactly what it needs and can't wait to make it so much better! SO EXCITED! Off to write – hope you have a great day too!