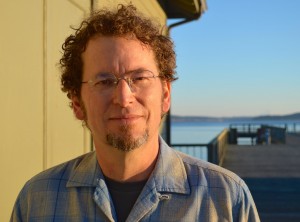 I'm so excited that I recently had the opportunity to interview Patrick Jennings as part of the Egmont's Last List blog hop. I also will be giving away one of Patrick's books after the interview, so be sure to enter!
I'm an elementary school librarian so Patrick Jennings, the author of Hissy Fitz, was at the top of my list. He has written so many books that I have in my library (and that I check out often to so many students!) I know Hissy Fitz will be a new favorite!
Hissy Fitz released last month from Egmont USA. Here's a little about it, taken from the Egmont website.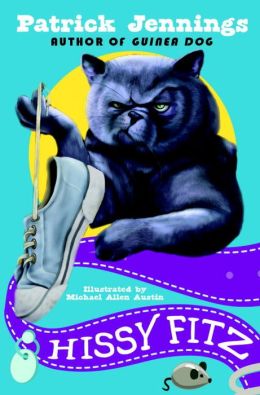 Hissy Fitz lives with some two-legged creatures who are destined to serve him in every possible way and understand his every whim. Sadly, these creatures are sorely lacking in their skills. For one thing–they touch him when they want to touch him. Don't they know that the two-legged are there for him to touch when he wants to–meaning when he wants food? Petting wakes him up! They speak to him–don't they know the two-legged should be seen–so Hissy knows where to order food–and not heard! It's becoming intolerable. What is this irascible cat to do?
EGMONT USA • ISBN: 978-606845967
Find the at your local book shop, or order it from your favorite online outlet via my website: http://www.patrickjennings.com/tigers-books/
Follow Hissy Fitz's twitter feed! @TheHissyFitz
"With its short chapters, snappy dialogue, and fast-moving plot, this book will be popular with newly independent readers." —School Library Journal 
"Hissy's drily delivered complaints and observations ("Humans are the noisiest creatures alive. I'm not sure there is any escape") entertain, while Hissy's frustration at his dependence on large humans who annoy him will likely resonate with many a reader." —Publisher's Weekly 
---
Where did you get your inspiration for Hissy Fitz?
During a writing workshop with about a hundred fifth graders in Bloomfield, Michigan. We were brainstorming a story about a cat when one student suggested it be insomniac. When I asked how it might overcome its sleeplessness, another student raised his hand. "It could go see a life coach." Other suggestions were tai chi, hypnosis, and exercise. I chose the latter.
I see that Hissy Fitz has his own Twitter account that is quite funny. Does he enjoy tweeting?
Hissy tweets on the family laptop after they have all gone to sleep and he isn't able to. I don't know if he enjoys tweeting per se, but it does seem to give him a platform to vent his rancor, which rarely cools.
What was the hardest part about writing the book?
Keeping the balance right. If Hissy became irredeemably nasty, no one would like him. But if I toned his nastiness down to the point that he was merely grouchy, he's would lose the razor-sharp edge to his personality, which is what I think makes him distinctive.
Would you consider yourself a cat person?
I had cats for twenty years, but I was never an avowed cat person. I'm certainly not one of those crazy cat people. I never talked to my cats, or bought them clothing or jewels. I never subscribed to cat magazines. I never took a cat to a life coach. I ended up with a cat accidentally, and it worked out. Cats, like writers, are content to lounge around for hours during the day.
What is your favorite part of your main character, Hissy?
His self-possession. He knows who and what he is, what he needs and wants, and he doesn't suffer fools lightly.
---
About Patrick:
Patrick Jennings's books for young readers have received honors from Publishers Weekly, The Horn Book, Smithsonian Magazine, the PEN Center USA, the Woman's National Book Association, and the Chicago and New York Public Libraries. The Seattle Public Library awarded his book, Guinea Dog, the Washington State Book Award of 2011. His book, Faith and the Electric Dogs, is currently being adapted for the screen. His new book, Hissy Fitz, was published in January 2015. He currently writes full time in his home in Port Townsend, Washington. 
Patrick generously donated a copy of Odd, Weird & Little (North American entries only, please) for me to give away to a lucky winner. To enter please see the entry area below!