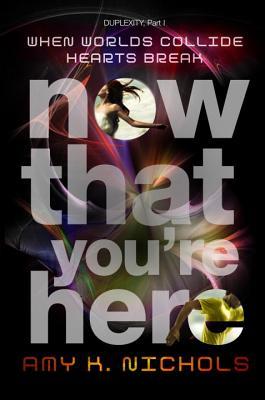 It's been a while, but I'm going to try to read (and review!) more books in 2015 – starting with NOW THAT YOU'RE HERE by Amy K. Nichols.
I was excited to read NOW THAT YOU'RE HERE because the parallel universe concept seemed unique and it didn't disappoint. I was a little afraid that it would be too science-geeky for me and while a few of the concepts were over my head, the author did a fantastic job of making me NOT feel like an idiot while I was reading. 😉
It was so nice to have a book where the characters were smart and not superficial, and nice to have a YA book that didn't try to push the envelope. I can already think of some of my science-loving students who are going to love reading this.
Can't wait for the next book, WHILE YOU WERE GONE coming out on August 4th! (I thought I loved this cover, but WHILE YOU WERE GONE's cover makes me swoon with all kinds of colory-starbursty love. Check it out and pre-order it while you do!