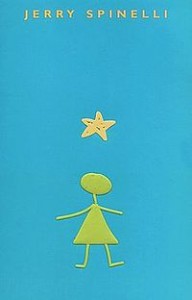 Recently for Children's Book Week the entire school dressed as their favorite book characters. It was a fun day!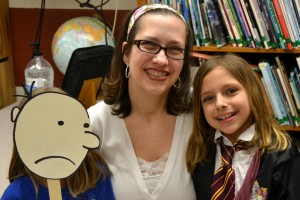 Of course I dressed up (um…Librarian? How could I not?) — here is a photo of my daughters and I. Can you guess who we were?
Our fourth grade teacher dressed in a flapper costume and said she was Stargirl. I loved her costume, but hadn't read the book yet. Time to fix that!
I read it in a few hours. Loved it! Couldn't put it down. I don't understand why it took me so long to read it.
Stargirl makes her own name(s), dresses however she wants (and not how everyone else dresses), brings a ukulele to school with her and serenades people on their birthday, makes random cards for people and delivers them, and all other non-conformist things. She doesn't care what anyone else thinks.
At first, the other students love her and her differences, but after a while they turn on her for being so different.
Throughout the whole book I was either like, "OMG, that is SO me!" or "OMG, I wish that was me!" I think everyone who reads this (boy or girl) will see at least a little of themselves in Stargirl.
This is such a fantastic story about fitting in and even more importantly – not fitting in.
If you haven't read it, then please do! It's the best book I've read so far this year. Can't wait to read LOVE, STARGIRL.